playground equipment and products
Burke Turf™ Playground Surfacing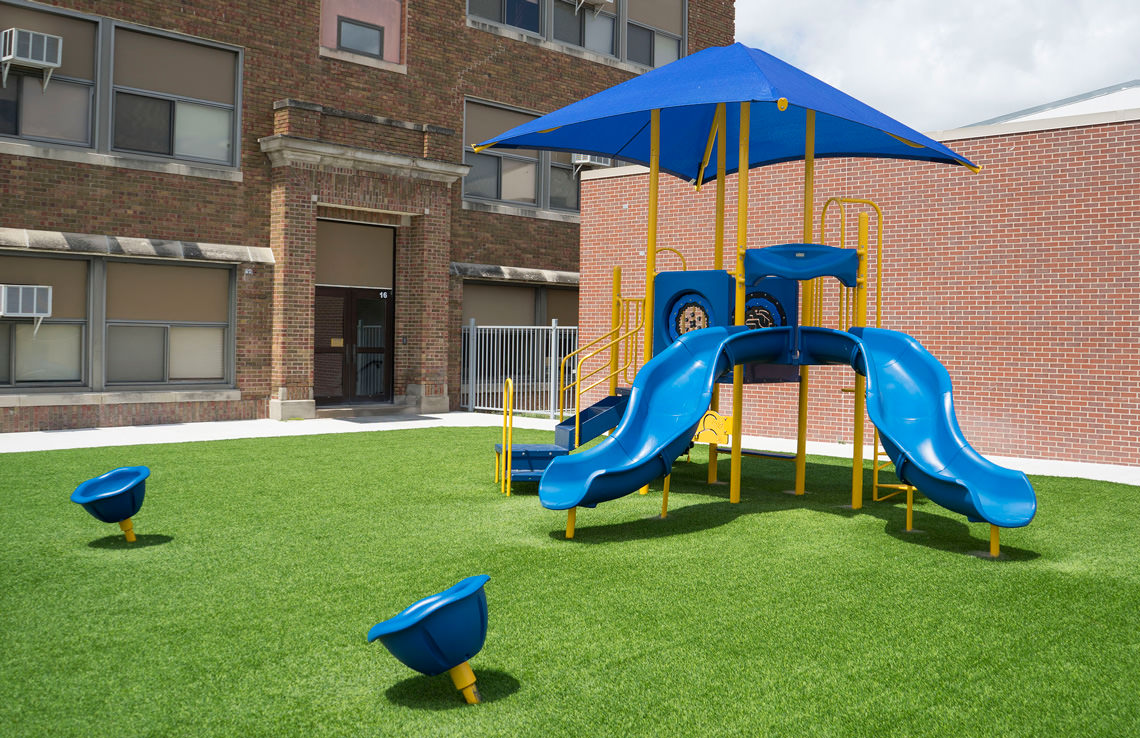 Burke Turf is the perfect surfacing option for your Burke outdoor playground equipment. We combine rugged durability with remarkable softness and beauty. Burke Turf™ playground surfacing is easy on the environment, has the look of a fine blade fescue or bluegrass lawn, but is tough enough for high-use sports and playground areas.
Burke Turf™ Playground Surfacing
Nucleus™ Commercial Play Equipment
BCI Burke's KoreKonnect® direct-bolt clamp system and EZKonnect® deck mounting system brings new levels of ease and precision to playground design and assembly. The Nucleus Outdoor Play System also allows for a seamless integration of traditional and fitness-oriented activities.


Intensity® Outdoor Fitness Play Complex Equipment
Ready to turn it up a notch for your kids? Burke's all-new Intensity outdoor fitness equipment is designed to challenge and exercise young bodies while providing so much fun kids won't want to go home. Intensity play complex equipment will get kids moving, spinning, climbing and jumping!
Intensity® Outdoor Fitness Play Complex Equipment
Intensity® 2 - 5 Outdoor Fitness Play Complex Equipment

Intensity 2 – 5 is the newest fitness play complex designed to promote the development and growth of children ages 2 – 5. It combines the five essential development areas of physical, cognitive, sensory/motor, emotional/social and language to enhance the benefits of play for children on the playground. This new action-based design allows young players to play safely and provides a clear line of sight for parents, teachers and supervisors to keep an eye on their little ones.
Intensity® 2 - 5 Outdoor Fitness
Play Complex Equipment

Voltage™ Outdoor Play Structures
Inspired by Burke's celebrated Nucleus™ play system, Voltage™ blends the architecture of our 3½" O.D. upright support posts, hundreds of Burke classic play events and the innovative design elements of KoreKonnect® and EZKonnect®. The result is Voltage, the ultimate in high-energy, fun and extreme value playgrounds!

Play Structure Components
Design your Burke outdoor playground for maximum kid-appeal and age appropriateness with unlimited design options. Choose your favorite events from a colossal variety of dramatic climbers and climbing walls, slides, overhead events, tunnels, bridges, pod walks, panels and more with this handy search feature.


Freestanding Basics Playground Equipment
For traditional outdoor playground equipment that stands the test of time, choose Burke's Freestanding "Basics" product line. These are the building blocks of a great play environment, and are a great way to finish, or start, any park, school, daycare or other outdoor playground.
Freestanding Basics Playground Equipment
NaturePlay®Adventure Play Series
A place to play! Burke's NaturePlay Adventure Play Series has been designed to emulate nature with its unique Tree House designs, realistic climbing boulders, and earth-tone color schemes.
NaturePlay® Adventure Play Series

Circuit Play®
Burke's exciting play circuits combine the fun of the playground with the challenge of an obstacle course, to help children build strength, stamina, and self-esteem. Designed with challenging circuits without the risk of excessive heights, children will challenge each other to see who can get all the way around the fastest.
Circuit Play® Beginnings
Burke's new play circuits designed for children ages 2 - 5 combines play elements which focus on the use of all muscles groups, thereby, helping preschoolers develop balance, coordination and basic upper and lower body strength.
Little Buddies® Preschool Play Equipment
The right size at the right price! Burke's Little Buddies product line is the first play system designed specifically for preschoolers, ages 2-5, as well as for small places! Little Buddies' unique, age-appropriate designs combine properly-scaled traditional pieces with sand, water, windows, and interactive panels to encourage preschoolers to explore their physical and creative limits.
Little Buddies® Preschool
Play Equipment
Early Play Centers
Playing is learning! Creative and challenging play is essential to early childhood development. Burke's new Climb 'N' Crawl, Step 'N' Scoot and Kiddy Korral encourage physical and cognitive growth while providing hours of engaging, exploratory fun for children 6 – 23 months. Create essential play and development opportunities for your little ones with Burke's new Early Play Centers!
HealthQuest Outdoor Fitness Equipment
HealthQuest fitness playground equipment is designed with unique different exercise and physical activity stations that build strength and stamina. Custom-designed signage walks users through warm-up and cool-down exercises as well as proper use of the outdoor fitness equipment.
HealthQuest Outdoor Fitness Equipment
Park & Playground Site Amenities
Burke offers a full line of park and playground site amenities including benches, tables, grills, bike racks, garbage and litter cans that will add value and comfort to any playground, park, school or outdoor public area. A variety of PVC-Coated Steel, Wood or Recycled Plastic amenities are available for every environment.
Park & Playground Site Amenities
QuickShip Products
Burke understands that sometimes you need a product and you need it fast. A number of our Freestanding Basics Playground Equipment products are available through Burke's QuickShip Program.